2018 NohatDigital Apprenticeship Opportunity
We're looking for hard working & motivated individuals to join our Online Business Apprenticeship Program in Valle de Bravo, Mexico.
Key Requirements:
Must be willing to move to Valle de Bravo for 2 months

, 

starting April 2018

Must have good written communication skills.

This means you must have a good command of the English language. You don't have to be an English professor but should be able to write your own blog post.

Must be creative & be able to improve already existing systems & processes or develop your own.

Basic WordPress skills and computer skills, programming experience is a big PLUS

Ability to learn fast & have a positive mindset

We're looking for solution oriented people (there's a problem, let's figure out how to fix it or make it an opportunity!)

Advanced Google Spreadsheets / Excel skills are a PLUS!

An interest in Cryptocurrency is a PLUS!

Successful graduation from a NoHatDigital Internship or Program

OR

one of our partner sites. (NichePursuits Internship or Private Training Program, Authority Machine Internship or Private Training Program, Ranking Formula Internship & Program)
More important than having a bunch of skills you should be:
Easy going and be able to get along with most people.

Able to handle some pressure and not flip out.

Willing to live in a picturesque town in Mexico in a hacker house (with your own private room).  You're welcome to bring significant others or kids as well!
All the usual stuff still applies also like being driven and working hard etc…
Met all the requirements? Let's talk about the opportunity!
Summary: Opportunity Details
You'll get the opportunity to work with Hayden & the team to learn the strategies to develop and manage a successful online business. Hayden has an expansive portfolio of online web properties valued well into the 8 figures.
His firm Wired Investors also purchased the popular keyword research tool, LongTailPro from Spencer Haws.
You'll complete an 8 week program, where you'll learn advanced m&a strategies like how to identify and buy an online business, how to analyze an online property to determine profitability & optimization strategies, and how to manage a roll up and implement vertical integration.  You'll also exit with a knowledge in crypto that is among the top 1% in the world.
NOTE: SEO is maybe 2% of what we will work on.
We're not just number crunchers, we're a fun group of people that enjoy working on cool projects, traveling to cool places, playing sports and talking shit!
If online entrepreneurship is your dream, this is your chance to live in an exotic location, work on creative projects and learn the skills and mindset you need to be a "successful" entrepreneur. Whatever the term "successful" means to you.
Come to Valle and be part of the next generation of entrepreneurs down here. We have a long list of businesses we want to build this year (maybe you have some ideas also) and we'll need lots of employees and partners if we're going to SUCCEED.
Life In Valle
Get Hooked on the Food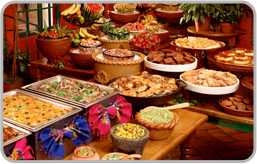 Food is catered by a top-class restaurant. We eat as Mexican's eat, 2 large meals a day (one at 10:30am and one at 4:30pm), and we all eat together at a massive outdoor dining table. The cost covers Monday to Friday only, the chefs get the weekend off (which is for the better as this is when we can hit the town).
Oh my God the Weather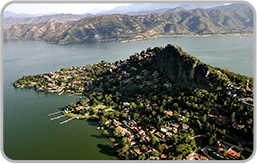 The weather is perfect. We are 6000 ft. above sea level in a mountain town with a huge lake, so it's hot in the sun and cool in the shade. The sunsets are epic.
Safety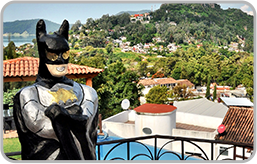 Valle de Bravo is a paradise, and it is completely safe. I'm sure you've heard sensationalist claims about Mexico, but I assure you, Valle is safer than any US or Canadian city I have ever visited.
What's Included
Your own private room
A maid 5 days per week
Internet (20MB), electricity, gas and all utilities
A small stipend for other expenses ($1k/mo)
What's not Included
No meals on weekends
Alcohol/snacks/etc
Your flight & transportation
Budget $50-100/week for excursions
NoHatDigital's Story
If you're not aware of the NoHatDigital story you can read about the community we built down here in 2014 / 2015 here: http://www.nohatdigital.com/community/

The people in the picture above came as fresh internet marketers. The majority of them are now location independent entrepreneurs with a networth in the 7 figures. They all came here for the same opportunity you are getting right now and they made sure they nailed it.
FAQ
How long can I stay?
The apprenticeship runs for 2 months. You are welcome to stay longer though we may shuffle the rooms around or move you to a nearby house.
Do people in Valle speak English?
Maybe 5-10% of the population speaks communicable English. Do I need to speak Spanish? Nope! It's more fun if you do, but you can easily get by with the help of some of the other guys here.
Do you need car?
No you don't!  Valle is a walking town.  We also have two cars here to do group transport (sports and weekends) and their are plenty of taxis as well.
How much money do people spend?
On average maybe $100 a week, or if we go on a weekend trip maybe more.
Can I bring my significant other?
Yes!  It would just be an extra $10/day for the food.
Can I bring my dog/cat?
Yes.
Is it safe?
Safer than any city in the US.
How's the nightlife?
Though Valle is a small town of under 100,000, it is filled with high-end restaurants, bars, clubs, etc.  This is because it is a weekend playground for the rich in Mexico City.
Do you go on trips?
About once a month we will do an organized road-trip somewhere.  Some people who want to go more often will just go on a bus (they usually go to Mexico City to party).
What's an average weekday look like?
It's up to you.  A bunch of us start our pomodoros at 7:45am; there are others that like to get up 5am and get the work day done with by noon.  The only set-in-stone times are meals at 10:30 am and at 4:30 pm.  We play sports a few times a week (basketball or soccer).  We often go out for mezcal on Friday or Saturday nights.
When Do You Start
We're ready to go now. We'll be looking to have you down here and settled in by the end of April and be committed to staying here for at least 2 months full time.
What Happens After?
We're not looking for cheap labor, we are looking for solid partners and employees. After 2 months if everything is going well, you will receive an offer to work remotely as the General Manager of a business or portfolio of businesses that earns 7 figures/year. If you're good, this offer will be a decent 6 figure income, and you will enjoy complete freedom of place, work and hours.
How To Apply
We've got an application form for you to fill out. We also want you to do a quick video for us. The details are on the application form.
Fill out the application in Google Forms or fill it out right here on the website.
Best of luck to you for your application! We're excited and looking forward to building a team down here!
Hayden Miyamoto & Ken Roberts