In today's modern era of information technology, having a solid online presence has become critical to reaching out to target audiences, creating engagement, and building a reputation. With content marketing trends changing in 2015, a lot of companies are now re-allocating budgets to other forms of content including videos, which seem to acquire more popularity due to the huge number of consumers using video distribution platforms like YouTube. Visual content offers consumers a simple way of accessing and understanding information, not to mention that it usually allows companies to create a unique voice or personality that can further attract masses and create engagement.
According to statistics, 60 percent of users will share their video experiences with others. As such, your content will likely be visualized by more pairs of eyes if you deliver it in this form via social media-integrated video platforms like YouTube. Keep reading to find out how vlogging can benefit your company.
What Is Vlogging?
Short for "video blogging," vlogging entails recording a video that delivers information similar to how you would write an article or blog post. The term "vlogging" has been first used back in 2002, but it has not seen any major growth until the creation of YouTube in 2005. The most notable aspect about vlogging is that many important personalities have vlogs nowadays, which they use in order to deliver information, share experiences, and build a solid fan base.
Just typing in "vlogging" on YouTube will show videos produced by Zoella, TatcherJoe, Dan Howell, and other famous vloggers. As a matter of fact, vlogging can bring you over 2,000,000 views per video, which is an extraordinary opportunity to improve your SEO strategy and get your audience to know you. As long as you have the right information to deliver to your consumers, a YouTube vlogging camera, and also a suitable background to record the videos, your vlog can help generate more qualified leads and increase sales substantially.
Best Vlogging Camera in 2015
Part of your success is strongly related to the vlogging equipment you are using for producing videos. Although the value of your content is the most important aspect of your videos, image quality matters a lot, and can go a long way towards making your vlogging efforts yield the expected results.
To help you choose a good vlogging camera, we have carefully reviewed three models we find suitable for this particular objective. For comparison purposes, we included a list of features for each model, and also covered both the advantages and potential disadvantages of each, along with an approximate price point. Before you go to our review section, make sure to read the short buying guide below.
What to Look for in a Vlogging Camera?
When it comes to choosing the best vlogging camera, there are a couple of factors pertinent to decision-making.
1. HD Video Recording: One of the most important features to look for in a vlogging camera is HD video recording. Opt for a model that provides a nice clear, sharp video, preferably one that shoots at 1080p. If you cannot afford paying the extra money for a full-HD camera, you can also go for one that shoots at 720p, which will also get you quality videos without the price tag.
2. Optical Image Stabilization: Vlogging entails a lot of movement, and especially gestures that can affect the quality of your videos if your camera does not come with optical image stabilization. This feature allows you to smooth out shaking and movement, and provide a clearer image quality while recording.
3. Built-In Microphone: Although most cameras are equipped with a microphone, not all of them offer high-quality voice recording. We recommend that you choose a model with a front-facing microphone, as it allows your voice to project directly at the device, thereby yielding better overall sound quality.
4. Close-Range Lens: When shopping around for a good vlogging camera, one thing to consider is the lens. Given that you will be shooting from close range, you will want a 24mm lens, as it will offer better image quality and make it easier for you to do the recording.
5. Lighting: While most advanced dSLR cameras allow you to set lighting as desired to suit the environment you are recording in, mirror-less cameras do not, which means that purchasing separate lighting equipment is important. Invest in a quality studio kit if you are planning on producing videos in different locations, or in lighting conditions that are less than optimal.
6. Tripod: A tripod will help keep your camera steady while you are recording the video, which will enable you to successfully diminish movement or shaking that can ruin video quality. Although you can consider using other objects for support, a tripod is recommended due to the fact that you can set the camera as desired for video recording.
Cheap Vlogging Cameras
Investing in a good-quality vlogging camera is oftentimes expensive, specifically if we talk about models that shoot at 720 or 1080p. As such, going for cheap vlogging cameras is probably the best solution you have, although you should expect video quality to be less than perfect, and the image to have added noise if the light source is not natural.
1. Smartphone Camera
The vast majority of smartphones nowadays come with capacitive cameras featuring sensors of 8 megapixels or more. If you own a futuristic model such as the Samsung Galaxy S5 or Samsung Galaxy Note 4, video quality is going to be outstanding, as they both have cameras with sensors of 16 MP. Keep in mind that smartphones are not equipped with video recording features, so you will be lacking lighting settings – not to mention that you will have to deal with no image stabilization. Unless you have a special support for your smartphone, you will probably have to hold the device in your hand during the entire time – which can be more of a challenge if this is the first time you are vlogging.
2. Computer's Camera
Although we strongly advise not to use it, your computer's camera is another option you have when it comes to vlogging. Most built-in computer cameras will naturally produce noise even when lighting conditions are good, and they tend to be sluggish, not to mention that their frames-per-second rates are low. As such, your videos will be lacking the sharp, crisp image needed to actually attract your audience, but they will still help generate leads.
Canon Vlogging Cameras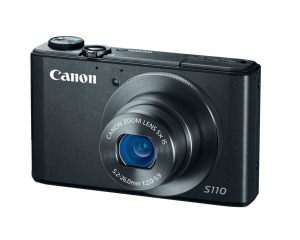 Canon is a big player of the vlogging industry, specifically because the company manufactures cameras that can be successfully utilized for vlogging. Most Canon vlogging cameras will provide excellent image quality, good sound, and a range of features that make them stand out from the rest. Moreover, you can purchase them at decent price points, which is ideal for entrepreneurs who cannot afford high-end models.
1. Canon PowerShot S110 Digital Camera
Although it looks like a point-and-shoot camera, the Canon PowerShot S110 is still one of the most outstanding beginner models, especially for companies aiming at smaller investments. The camera will record stunning HD videos at 1080p, featuring a 12MP sensor that ensures you of excellent image quality. Video is recorded at 24fps, and you can conveniently hold it in your hand for longer due to its compact, lightweight design. Priced at between $100-$200, the Canon PowerShot S110 is one of the most affordable Canon vlogging cameras for those just starting out.
Pros:
• 1080p Full HD Video
• 12 MP megapixel full HD (1920 x 1080) CMOS sensor
• 24fps video recording
• Dedicated movie button
• Built-in Wi-Fi
• Compact and lightweight design
Cons:
• No external microphone jack
• LCD is not detachable
• Separate removable SD card for storage is required
For the advanced vlogger, the Canon EOS Rebel T4i is going to be a great choice, specifically due to the many features this dSLR camera is equipped with. The device offers two different video recording options based on the desired frame rate: 1920 x 1080 Full HD video recording at 30 fps, and 1280 x 720 HD video recording at 60 fps. A built-in stereo microphone has been included to enable entrepreneurs to successfully record their voice as well.
Of course, you can expect to find a wide range of customization options to ensure the best image for your videos, with adjustable ISO, shutter speed, aperture, and white balance. The LCD touch screen swivels, which makes it easy for you to see exactly what you are recording, and make adjustments.
The Canon EOS Rebel T4i sells at between $800 and $1,000, but can be even pricier if you buy it with a different lens.
Pros:
• 1920 x 1080 Full HD video recording at 30 fps
• 1280 x 720 HD video recording at 60 fps
• Built-in stereo microphone
• External microphone input
• 18 megapixels power lens
• Swivel LCD touch screen
Cons:
• Very expensive price points
• Requires a tripod for image stabilization
Nikon Vlogging Cameras
The second best camera company is Nikon, which also produces excellent devices that can take the hassle out of vlogging. With varying price points that start at under $200, choosing a Nikon camera can help make the most out of your vlogging efforts. Nikon vlogging cameras tend to be more stylish and compact than Canon ones, although there is no noticeable difference when it comes to features.
Best suited for beginner vloggers, the Nikon Cool-Pix S9500 is one of the best-rated cameras of its kind, featuring an outstanding megapixel sensor of 18MP. The device can record videos in full HD at 1080p, providing superior low-light performance that is ideal for the moments when lighting conditions are not great. Although image quality might be lacking the crispness and sharpness of a dSLR camera, the Coolpix S9500 from Nikon remains one of the best choices for newbie vloggers. The camera is also affordable, as it sells for only $248.
Pros:
• 1080p Full HD Video
• CMOS sensor of 18MP
• Superior low-light performance for darker environments
• Built-in Wi-Fi
• Built-in GPS
• 3.0-inch OLED display
• 22x zoom super-telephoto lens
• Lightweight and compact
Cons:
• More noise if light source is not natural
• No external microphone output
• Short battery life of 40-50 minutes (when recording videos)
Since we made a habit out of recommending a dSLR camera for each company, we propose the Nikon D3300 as the best model for vlogging. With a megapixel sensor of 24.2MP, this dSLR produces beautiful videos that stand out through their image quality. Recording videos at 1080p is possible at 24, 25, 30, 50 and 60 frames per second, and users can choose from a wide range of customizable camera settings, such as ISO 100-12800 (expandable up to 25600) and 11-point Autofocus System.
Although bulkier than the Canon EOS Rebel T4i, this Nikon vlogging camera will go a long way towards producing high-quality videos every time. Price starts at $496.95.
Pros:
• 1080p Full HD Video
• Sensor of 24.2MP
• Different frame rates available: 24, 25, 30, 50 and 60fps
• ISO 100-12800 (expandable up to 25600)
• 11-point Autofocus System for crisper details
• Customizable camera settings
Cons:
• Very bulky and heavy (weighs 0.95 lbs and measures 4.88 x 3.86 x 2.99 inches)
• Expensive for companies on a tighter budget