As mentioned in the Sweet Profitable Justice post, we started putting a team together in order to build a business around scaling niche sites into authority sites. The aim was to take our current batch of niche sites and partially developed authority sites and turn many of them into what would be effectively stand-alone businesses.
The team currently stands at nearly 30 people, 13 of whom are currently here in Mexico, while the rest work remotely.   We aim to more or less double in size within the next 90 days.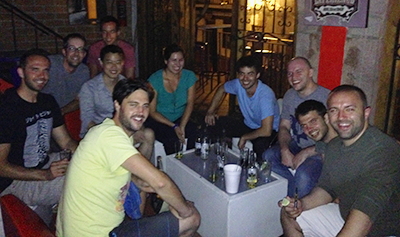 As we've gone through the process of putting the team together and fleshing out how the business will run, we've also developed a mission statement to define our existence.  This is something  we all feel very passionately about. As you'll see, our mission has become far greater that doing SEO and piling content on our current niche sites.
Mission Statement: 
Our first mission is to be on the cutting edge of online marketing, to innovate and find bold new ways to drive online traffic and conversions, to test these methods at unprecedented scale, and to teach the results of this testing for free to anyone willing to put in the work to learn them through our internships and the NoHatDigital community.
Our second mission is to create opportunities for people looking to escape the corporate world. To give them both the opportunity to work as remote partners and earn an income from anywhere in the world, as well as the opportunity to live and work with a community of peers.
This mission is important to me, and I want to communicate it in everything we do.  So here's a more detailed explanation:
What it means to be on the cutting edge of online marketing:
In my experience, you can become successful online in one of 2 main ways:  You can be in the right place at the right time, or you can innovate.  I've been lucky enough to experience both, but I vastly prefer the latter.   Expired domains and Private Blog Networks,  Keyword Thirst, and the Internships were all different areas we've applied innovation to this field.  These ideas have brought a lot of success to a lot of different people, myself included.  Having a big team in Valle means we can scale up internships which enable us to scale this testing  – we have started up an Experimental Division and are testing and case studying multiple hypothesis every quarter.  We will devote hundreds of units of content per month and at least 2 team members to this goal alone.  And we will share the results.
What it means to share everything for free:
I have an abundance mindset and truly believe in transparency and the sharing of knowledge to benefit others.  When I first started NoHatSEO and released my initial expired domains series, and gave the formula away for how my keyword tools worked, I tested this mindset.  I am still amazed at the opportunities it brought me. Hundreds of people reached out and shared their stories, and it gave me the idea to bring out internships.   This in turn brought out the formation of NoHatMedia, which is giving both myself and half a dozen previous interns a full-time income.  And now it has brought about NoHatDigital, which I hope will do the same for a hundred or more interns.  But more on that in the next point.
What it means to create opportunities for people looking to escape the corporate world:
A passion that I share with everyone on the team –  and I'm guessing just about everyone who reads this post – is a distaste for Corporate America and the "American Dream".   There is a massive awakening happening, a freedom revolution in which people are taking ownership of their jobs, their time, and their lives.  I want to do everything that I can to enable people to quit their jobs and have the freedom to live THEIR life, not the idea of a dream life designed to benefit a specific class of people.
The first and most direct way I can create opportunities is through the NoHat internships.  Since 2012, internships have been my way to meet peers and potential partners.  They are also the solution to the #1 problem that most people in this industry have – a lack of structured focus on techniques with a proven track record.   The internships provide a structured program with access to a mentor and group of peers – both of whom will kick your ass to meet some difficult deadlines (which creates a great barrier to entry for selecting future partners)  Click here to learn more about the upcoming internship.
What it means to create social opportunities for entrepreneurs:
For many, myself included, the ideal life involves living and working directly with peers.  Anyone who's been full-time online can attest to the fact that it can get lonely.  You work from home all day, and rarely have the opportunity to shoot the shit with someone who understands the trials and tribulations of an internet marketer.  We've all tried to explain what we do for a living to our friends and family… (and no I am not a web designer and can't design your website).
In the short-term we are setting up a little entrepreneurial community here in Valle de Bravo.  Long-term I'd like to see these communities all over the world, as travel and new experiences are also passions I share with almost all of the NoHat readers I've had the opportunity to meet.  We have local meetups scheduled here, and just add your info here if you'd like to meet other peers in your area.
Note the reference to NoHatDigital.com?
My goal is to create something far greater than what the NoHatSEO brand is currently known for. The goal is to shift the reputation of NoHatSEO from my personal SEO blog, to an online marketing community that offers unprecedented access to cutting edge information and opportunities. NoHatSEO.com will soon become NoHatDigital.com!
What you've got to look forward to:
A fresh new look on the blog.
A big jump in the frequency of posting content to the blog (you may have noticed that we've increased that quite a bit over the past few weeks).  We aim for 3 posts a week.
Exciting new case studies where we throw open the doors to what we're doing.
Podcasts and Webinars.
Plenty of free training to help as many people as possible make a genuine living online.
Want to see anything in particular on the new site?   Leave a comment below!
Hayden