Come Live and Work in a Mansion in Valle de Bravo, Mexico!
As you may or may not know, 6 months ago Han and I held our first ever entrepreneur retreat in Mexico. Out of that retreat the idea for NoHatDigital was formed, and we invited 6 people down to help form the company. 3 of those 6 people now live here full-time (Max, Dave and Scott Davis), and since then, more than 20 people have spent a month or more working with us in Valle.
It has been an amazing experience, and an incredibly surprising one. I always knew I lacked peers and community, but had no idea how integral community would become in my life. I know everyone who has been here feels the same way. That's why we want to invite more people down, and build a large entrepreneurial community!
Enjoy The Mansion
We often have 1-2 extra rooms in the mansion. We're looking to fill them with fun, interesting people who appreciate a cool co-working environment in a different culture. The rooms are all large, well appointed with their own private bathrooms. The house itself also has a pool, jacuzzi, trampoline and about 5 different living rooms / working areas. It's also got a Foosball table, a movie room, and tons of other fun shit.
Get Hooked on the Food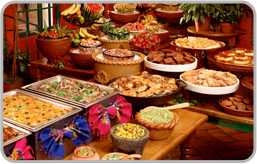 Food is cooked on premises by a top-class duo of chefs with combined 50 years professional cooking experience. We eat as Mexican's eat, 2 large meals a day (one at 11am and one at 4pm), and we all eat together at a massive 20 person outdoor dining table. The cost covers Monday to Friday only, the chefs get the weekend off (which is for the better as this is when we can hit the town).
Oh my God the Weather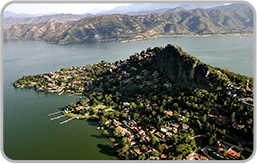 The weather is perfect. We are 6000 ft. above sea level in a mountain town with a huge lake, so it's hot in the sun and cool in the shade. The sunsets are epic.
Safety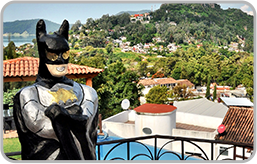 Valle de Bravo is a paradise, and it is completely safe. I'm sure you've heard sensationalist claims about Mexico, but I assure you, Valle is safer than any US or Canadian city I have ever visited.

If you want to see more pictures of our villa and Valle, you can check out Glen's blog here.
Interested in Coming Down? Here's some more information:
The guys here all have a very similar background to you (mainly SEO fed online business).  A couple are more junior in experience, and a couple more senior, but probably as an average people here have about 5-6 years full-time online experience. At the time of writing, we have 4 people here with 5 figure/mo businesses, and 6 people making 4 figures/mo. Because we get a lot of DCers here, their experience ranges greatly – from offline to e-commerce to silicon valley startups.
What's Included
A private room with ensuite bathroom
A maid
A caretaker
Internet (20MB), electricity, gas and all utilities
2 home-cooked, healthy meals every weekday (we eat on a Mexican schedule, 2 large meals at 11am and 4pm, pretty much everyone is fine with that).
What's not Included
Food on weekends
Alcohol/snacks/etc
FAQ
How long can I stay?
We are looking to have 7 people staying long-term, and to keep a rooms open for shorter-term stays.
Do people in Valle speak English?
Maybe 5-10% of the population speaks communicable English. Do I need to speak Spanish? Nope! It's more fun if you do, but you can easily get by with the help of some of the other guys here.
Do you need car?
No you don't!  Valle is a walking town.  We also have two cars here to do group transport (sports and weekends).
How much money do people spend aside from the $100 per day?
On average maybe $100 a week, or if we go on a weekend trip maybe more.
Can I bring my significant other?
Yes!  It would just be an extra $25/day for the food.
Can I bring my dog/cat?
Dogs yes, cats no (due to allergies).
Is it safe?
Safer than any city in the US.
How's the nightlife?
Though Valle is a small town of under 100,000, it is filled with high-end restaurants, bars, clubs, etc.  This is because it is a weekend playground for the rich in Mexico City.
Do you go on trips?
About once a month we will do an organized road-trip somewhere.  Some people who want to go more often will just go on a bus (they usually go to Mexico City to party).
What's an average weekday look like?
It's up to you.  The only set-in-stone times are meals at 11am and at 4pm.   A bunch of us start our pomodoros at 7am to get our work day done with by lunch. There's also two different work-out groups (bodyweight vs the gym), and we play sports a few times a week (basketball or soccer).  We often go out for mezcal on Friday or Saturday nights.
To apply please send an email to hayden (at) nohatdigital.com with the subject line 'Mansion Mastermind Application'.  We currently have availability starting in September.
Looking forward to meeting you!
Hayden
P.S. – If you're curious as to why I chose to move to Mexico, I give my reasons in this post: Why I Moved to Mexico (and the Glory of Geographic Arbitrage).