NoHat 101 – Off-Page SEO and Link Building
Google runs what is probably one of the most mind-bending algorithms in the world, yet if there's one thing we're 99.9% sure about, it mostly relies on external backlinks.
In fact, relying on external backlinks was the main reason that Google was able to to provide users with such relevant results for their searches and bulldozed its competitors.
Like it or not, Google is a monster and it flat out runs the web.
What is an External Backlink?
It is simply a link pointing to your website, coming from a different website.
Like this:
Today, we estimate that around 60-70% of Google's algorithm is based on external backlinks.
A good way to easily understand how Google assesses the quality of a site is to use Jon Cooper's analogy – each backlink counts as a vote.
Example: 2 websites about ping-pong tables with similar content and On-Page optimization.
So how will Google decide which of these sites should rank higher than the other for "ping pong table" related terms?
Answer – Google will figure out which site has the most relevant "votes" from important sites.
Now in a real democracy, one person's vote equals 1 unit, but not with Google.
In Google's universe, not all links are equal.
One strong link will often have much more influence on the rankings of a website as opposed to 200 weaker ones.
Website Authority Matters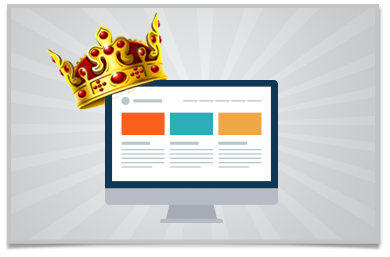 Generally speaking, the higher your competitor's PA and DA are, the harder it will be for you to outrank them.
The same theory applies to backlinks.
If the backlinks are coming from super trusted websites (i.e. authoritative), then they are going to carry more weight and give more power to the site that they are linking to.
Just like we discussed in our previous video about website authority, we look at Moz's Page Authority (PA) and Domain Authority (DA) metrics.
Easily put, the higher the PA and DA from the website the links are coming from, the more SEO juice they will pass on to your website.
Imagine having an astronomy website and getting a link from NASA:
To understand this even better, a link coming from the New York Times will help your rankings much more than a link coming from your mother's Tumblr Blog.
Relevancy
Relevancy is key when it comes to promoting and getting promoted by others online.
While it has become increasingly important in the past years, it should be the very first thing to take into account whenever you are doing outreach for links, or building links yourself.
The best way to understand relevancy when it comes to Off-Page SEO is that if you get a link from a relevant external page, that link will be more powerful as opposed to if you got a link from a page that had no relevancy.
So if you have a website that sells office chairs, and a furniture store website sees your website and links to it, then it will pass more "link juice" as opposed to let's say a travel website.
Anchor Text

Anchor text is simply text that is used as a link to an external/internal webpage.
So for example, if you wanted to use the phrase "Learn SEO Online" and link to NoHatDigital, it would look like this:
Anchors can have a huge influence on your rankings and an equally negative one if you're not careful with them.
Exact Match Anchor Text
A few years ago, SEO's were abusing the use of exact match anchor text, a practice that consists in using your main keyword as an anchor.
Here's a prime example:
In April 2012,  Google released it's Penguin update that rocked the rankings of millions of websites by penalizing sites that had too many exact match anchor links pointing to them.
You have to understand that Google will always go after links that are made to game the rankings of their search engine.
After all, Google's primary purpose is to serve the users, not the websites they're linking to.
Long story short, just don't use exact match anchor text.
If you're still tempted to, keep it under 5% of your overall link profile.
Anchor Text Variation
The best way to avoid a Google penalty is to vary your anchor text and make sure you have a fully diverse profile.
Here's a quick list of anchors you can use to link to your website:
Raw URL – http://www.yoursite.com
Your brand name – Wal-Mart, Target, Chevrolet
Partial match anchor – your main keyword included in a sentence. If you're keyword was speed boat, your anchor could be "this great website about speed boats" (make sure to keep the ratio under 15% for this one).
Generic anchors – "click here"/"here"/"check out this website"/"source", etc
Image links
The main reason you want to keep an eye on your anchor text profile is to avoid a penalty rather as opposed to improving your rankings.
Aim for Contextual Links
When you are link building, the best types of links that you can score are the ones that are located in the same paragraph as targeted keywords (or synonyms) from relative, high metric domains.
Here is an example of contextual links:
As you see in this example, you can see that there are links within the paragraphs themselves and relevant keywords surrounding the anchor text as well.
Some key take-aways for when building links:
Never use Exact match anchors
Make sure to vary your anchor
Try to get your targeted keyword or its synonyms
Done!
Whew not bad!
Next Step: Learn How WordPress Works