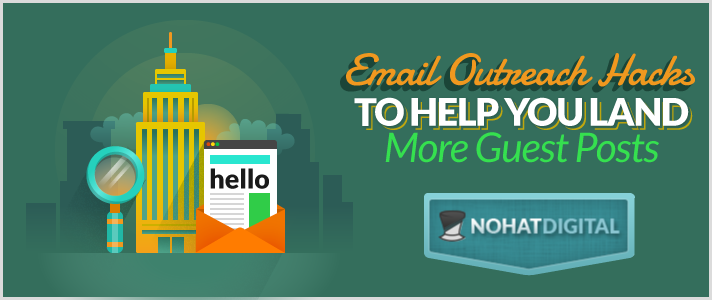 As course manager of Ranking Formula and a content manager, I've sent and received hundreds of guest post emails. Literally, I've seen it all (the good, the bad, and the darn near repulsive pitches) and I'm going to share with you 7 secrets to landing more guest post spots and thus more guest posting links.
You'll see truckloads of guides on the internet defining what guest posting is so I'll just keep it short, OK?
In a nutshell, to guest post is to write and publish an article on other people's website, be it a corporate blog or a popular online publication.
Because your post is published on a website where you are not the owner, then you are publishing an article as a guest – thus the term guest post. For example Ken wrote this guest post about living in Valle de Bravo and running content experiments on Spencer's Niche Pursuits Blog.
Under most circumstances, popular websites won't compensate you for guest posting. However, you do get to leverage their existing audience base and brand authority for some exposure.
Most websites also allow backlinks to the guest poster's website, which is great for organic traffic and SEO.
Got your attention? Great — but before you get your hopes too high, you should know that conducting email outreach is one of the biggest roadblocks you need to overcome.
Allow me to share with you seven email outreach tips that can help you land more guest posts.
Let's hop right in.
1. Don't Use Templates Available on Email Marketing Platforms
Personalizing emails is perhaps the most important rule in blogger outreach, and it's not hard to see why.
Today, you encounter more and more email marketing platforms that offer templates that are "pre-configured" for responses or conversions.
On paper, most of them have everything you want in a cold email.
They feature intriguing subject lines, strong calls-to-action, and even impressive-looking visuals if that's part of your approach.
Unfortunately, popular bloggers and publications will know a template-based email when they see one. After all, they probably receive truckloads of outreach emails on a daily basis.
You should treat them more than entries in a spreadsheet if you want a positive response. You need to take the time to get to know your prospect before you even consider them in your outreach strategy.
Alternatively, if you are set on using a template to scale your methods, be sure that there is something specific from the blog you are targeting that will catch the blog owners eye. This could be as simple as pointing out a specific post on the blog that resonated with you.
This leads to the next point.
2. Look for the Right Prospects
A good start is to look for websites that already accepts guest posts. The simplest way to do this is to perform a quick Google search with additional key phrases like:
Write for Us
Guest Column
Contributing Writer
Guest Post
For example, if your target keyword is marketing automation, this is what you'll get: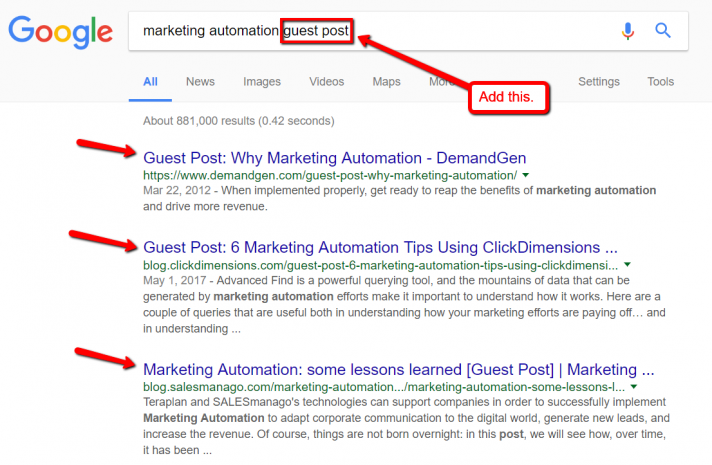 To get even better results, you can use Google's advanced search queries.
These are two of my favorite advanced search queries when using Google to look for sites that accept guest posts.
Niche inurl:"write for us" (ex. Paleo inurl:"write for us")
Niche inurl:"guest post" (ex. Paleo inurl:"guest post")
These are the results you'll get if you use both queries.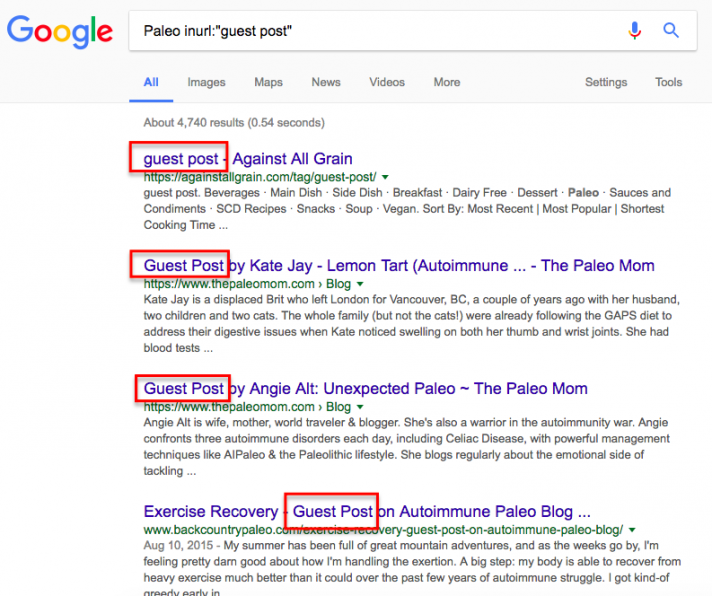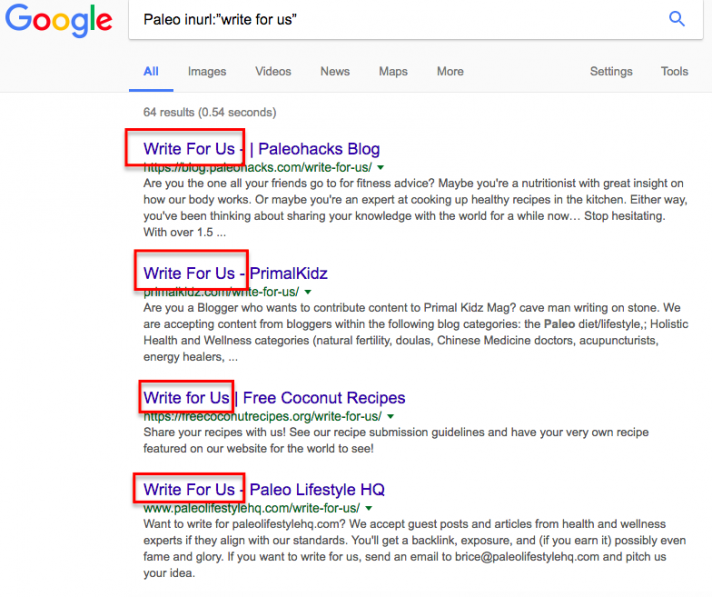 Another method is to look into the profiles of other bloggers to discover sites where they have guest posted.
Full-time bloggers, for example, make it a habit to leave links to their contributions all over the web. Others may include an "as seen on" section, like the example below from Jeff Goins: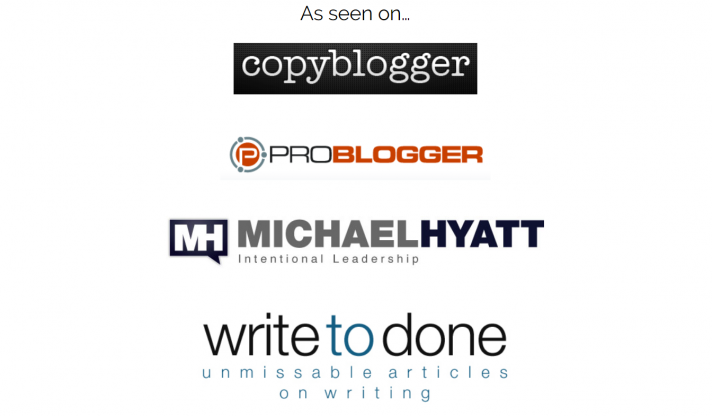 A word of advice: take the time to review a website's editorial or contributor guidelines. This will ensure you won't spend hours writing something that won't get approved.
If you have a list of bloggers that operate in your niche, you can also use this advanced search query.
Blogger's first and last name inurl:author (ex. Jeff Goins inurl:author)
Here's what you'll get if you use the search query.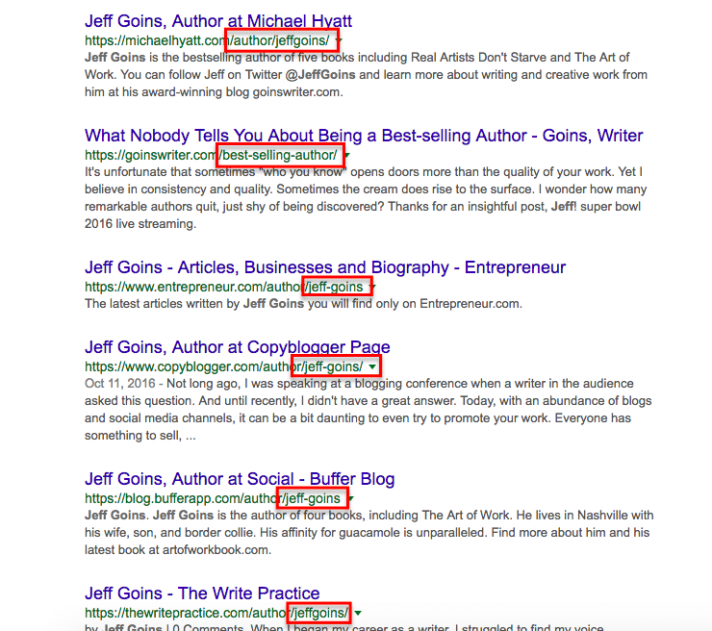 By reaching out to websites that have already accepted guest posts in the past, the chances of your guest post pitch getting accepted drastically increases.
3. Use the Skyscraper Technique For Guest Posting
If there's one thing top websites can't resist, it's the opportunity to publish a stellar post.
Using the Skyscraper Technique is a great way to take advantage of this. It is popularized by Brian Dean of Backlinko as a link-building strategy, but it can also be used for blogger outreach campaigns.
Aside from obtaining content ideas for your next guest post, it can also help you find potential targets for outreach — two birds dead with a single stone.
In a nutshell, the Skyscraper Technique has three important steps:
Look for popular/share-worthy content
Write something more thorough and updated
Promote the content, especially to the sharers of the original content
Since your goal is to seek guest posting opportunities, you'll have to offer the Skyscraper content as the guest post rather than request for a backlink.
A content research tool like BuzzSumo or Ahrefs will come in handy for this. Simply type in a keyword to pull up a list of popular content and click "View Backlinks" to see who could be interested in publishing a better post.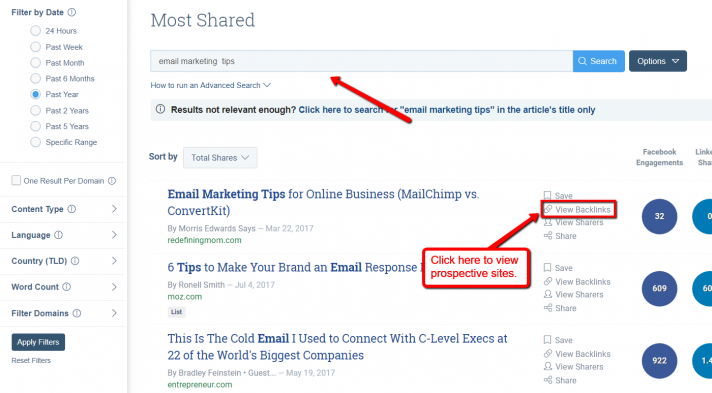 When it comes to developing your Skyscraper content, a few ideas include updating old data, incorporating visual content, adding more items to a listicle, and providing examples.
4. Mind Your Subject Line
It's amazing how seemingly minor details can have a significant impact on your outreach campaign's success.
The length of a subject line, for example, is a factor that plenty of marketers overlook.
According to Smart Insights, keeping your subject line within 6-10 words long can lead to a big jump in open rates.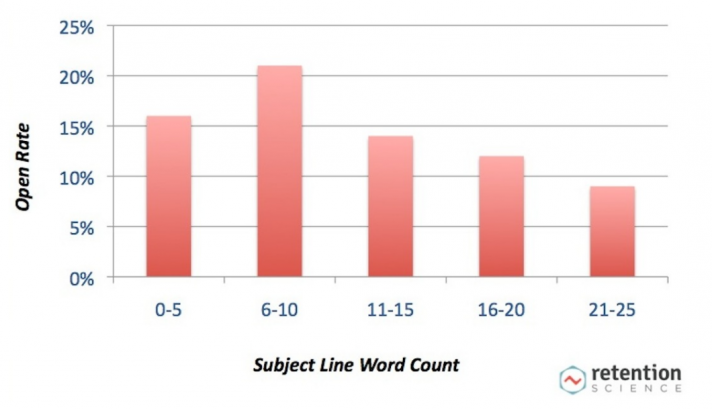 Image source: Smart Insights
As for your subject line, the key is for you to be specific and include terms that are related to time. According to HubSpot, the words "tomorrow" and "quick" can increase open rates by 10% and 17%, respectively.
Also, with your subject line, you want to be very clear about what your intentions are with your email. You want to avoid "tricking" the blog owner into opening it. Using "quick question" or "guest post" in the subject line works well.
If a blog has a clear guest post page, it's best to be direct with a subject line similar to "Guest Post Pitch for Huffington Post blog", so that it goes to the right person. You may even want to test your subject line before sending with a free tool like Moosend Subject Line Tester.
5. Mention Specific Examples
You don't need to showcase your extensive vocabulary if you want to impress someone. You just need to show that you appreciate and pay attention to their work.
That's why you should mention specific examples rather than going with the generic "I love your post" line.

Think about it; you only need a couple of seconds to write something like "I've read your post about 'Marketing Automation Myths,' and I think it's awesome."
Remember, if you aren't careful with your generic compliments, you might end up insulting the major bloggers and online publications.
6. Keep Your Message Short
Do you want to know what else busy bloggers and content managers hate?
Wasting time.
Writing lengthy emails isn't the way to win these people's approval.
If your email pitch is longer than three paragraphs, then it's already a huge time suck in their eyes, unless you happen to catch them in a good mood.
There are only a few rules you need to abide by as you write the rest of your pitch:
Use Bullet Points
If you need to pack more information than 2-3 paragraphs allow, summarize them into bullet points.
Avoid Typos
Valuable prospects deserve more than rushed emails and you know it.
Mind Your Tone
Having a conversational tone in your email is one thing, using swear words and other forms of extreme language is another.
Highlight Your Goal
Your prospect already knows that you want something from them, so might as well be straightforward about it.
If you'd like to have an idea how seasoned marketers are creating their outreach messages, here's an example from Neil Patel.

I highlighted the P.S. on Neil's outreach email because the message he added there can do wonders for your email outreach.
If there's another crucial bit that you need to remember when creating your outreach messages, it'd be that your readers are almost always looking for that section in your email that highlights how they can benefit from participating.
The question that you need to address is, "What's in it for me?"
If you can give your readers a solid enough answer to that question, then they will most likely accept whatever call-to-action you add to your outreach message.
7. Plan Your Follow-Ups
Just because a prospect didn't reply to your first email, doesn't mean you've lost your chance at being able to guest post on their website. Sometimes, all they need is that extra nudge to respond.
First off, the rules for follow-ups is pretty much the same as initial cold emails. You still need to be personal, succinct, and specific.
What changes, however, is when you'll send them.
As a rule of thumb, wait for at least 3-4 days before you send a follow-up email.
Click To Tweet
Sending them the very next day will make you appear over-eager.
It also isn't advisable to send any follow-ups during weekends and holidays for a number of reasons:
Your prospects are less likely to check emails on weekends
Your follow-up will sink to the bottom of their inbox on their next workday
It might give the impression that you have too much extra time
Finally, the number of follow-ups you'll send will depend on who your recipient is.
If this is a new prospect, then you should avoid sending more than two follow-ups unless absolutely necessary. But if you've had a successful guest posting relationship before, then feel free to send as many as you need — as long as you're not doing so every single day.
Key Takeaways
Put yourself in your target prospect's shoes to determine how they'll respond to your emails.
Remember, nobody likes to receive template-based emails. You probably also hate to check anything work-related on weekends or holidays.
Your guest posting proposal will have value as long as you can prove yourself as someone that's capable and knowledgeable in your niche.
What's Next?
What kind of results have you been getting out of your email outreach campaigns to get more guest posts?
Are your emails left unopened?
Are your open rates decent but no one's replying?
Whatever challenges you're facing, take the time to share them in the comments section below and share this post. I'll try my best to answer all of your questions. Cheers!