Hi, I'm Hayden Miyamoto!
I'm a husband, father and serial entrepreneur.  You probably don't care about the husband and father part, so I'll give a brief timeline of the entrepreneur side :)
Dissatisfied with the state of public education, I dropped out of high school at the tender age of 17 and started my own local web design business.   6 months later, I partnered with a local Toronto client that had a small showroom selling high-end Japanese furniture.   My role was to create an online store that sold high quality and equally high priced furniture to the US, sight-unseen.  I spent 6 years doing this and brought the site to over 1MM /year in sales.  In this time I learned programming, graphic design, photography and 3d rendering, but my true strength was in online marketing and conversion rate optimization.
In 2008 I read the E-Myth Revisited, and decided I wanted to completely outsource my role.  So I spent a year creating processes and building a team of more than 20 outsourcers so I could leave the furniture industry behind.
2009 was devoted to a high-risk, high-reward startups I raised money for, and ultimately failed hard at.   In 2010 I returned to e-commerce and built a couple businesses in both English and Spanish, as well as an offline furniture business and a small factory in Mexico.  I lost a lot of money on the offline business and decided to head back online.
In 2011 I discovered niche sites and decided to scale it hard –  I built over 3000 sites in just under a year.  It was by far the least I have ever worked and  was the closest thing to printing money that I have ever done.
In the summer of 2012 I started the blog NoHatSEO.com.   The blog started out as an experiment which was formed with just a few hours of work, but it quickly became fairly popular in the niche site space.  It was created out of frustration with the salesy and secretive IM space that says one thing and does another, so I vowed to share advanced tactics for free.   I invented a technique to find expired domains and was the first person to publicly talk about building PBNs.
NoHatSEO was mainly a vehicle for me to meet and partner with talented people.  I ran internships that focused on teaching my particular approach to niche site and PBN creation, and it allowed many people to quit their full time jobs.  I partnered with the best interns and created several different businesses.
With all the Google updates the niche site game started becoming more and more difficult.    Niche sites were no longer as effective as they required more effort and more time to rank, and since I wasn't morally comfortable selling them, I wasn't really creating an asset that I could cash out on.  I pivoted to link sales as my main income source.  I had popularized PBNs to the point of becoming mainstream and I realized that this was no longer sustainable, so in May 2014, I held a retreat down in Valle De Bravo, Mexico.  The goal of the retreat was to help fellow SEO's step away from niche sites and leverage my abilities to start long term profitable businesses.
The retreat was an amazing 7 days for everyone involved and it opened my eyes into how important community is, especially in the isolated world that is online entrepreneurship.   So in July 2014 I started putting a team together in order to build disruptive businesses – thus NoHatDigital was formed.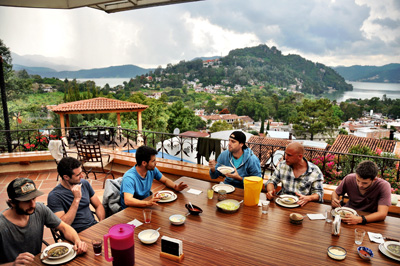 As we've gone through the process of putting the team together and fleshing out how the business will run, we've developed a mission statement to define our existence.
Mission Statement
I created NoHatDigital for a couple reasons.  I turned those reasons into missions, so I can always understand what it is I'm trying to do with this little blog.  The first mission is to create opportunities for people to earn a full-time remote online income, whether they are fresh out of school, or looking to escape the corporate world.  I do this in a unique way, by actually partnering on sites with readers.
My specialty has always been creating innovative systems that have a network scaling effect. I found that there are a lot of really smart, hard-working people out there looking to get started online, but they lack a few important fundamentals.
They lack the confidence to move forward with an idea.
They lack the discipline to focus on 1 thing and avoid "shiny object syndrome"
They lack the knowledge, specifically in product design and CRO, to get high enough visitor values to see a strong return on their traffic generation strategies.
I look to fill in those 3 weaknesses as my side of the partnerships.   If you're interested in partnering, up, there is a
2 week gauntlet
you'd have to go through.  
Check it out here
.
My second mission is to give people the opportunity to live and work with a community of peers.  Back in the summer of 2014, I invited people down to Valle de Bravo, Mexico.   At first I just invited employees down, but over time the word spread and it just become a bit of a digital nomad community.  
At any time there are 8-14 people living and working here right now.  This has been a life-changing experience for myself as well as nearly 50 people that have come through in the past year.   My goal is to expand this to other areas of the globe in the years to come.  Community is sorely lacking in the world, especially for those that work from home.
This mission is important to me, and I want to communicate it in everything we do. So here's a more detailed explanation:
Why I want to share everything for free:
I have an abundance mindset and truly believe in transparency and the sharing of knowledge to benefit others.  When I first started NoHatSEO and released my initial expired domains and keyword research series, I tested this mindset.  I am still amazed at the opportunities it brought me. Hundreds of people reached out and shared their stories, and it gave me the idea to create internships.
Why I want to create opportunities for people looking to escape the corporate world:
A passion that I share with everyone on the team –  and I'm guessing just about everyone who reads this post – is a distaste for Corporate America and the "American Dream".   There is a massive awakening happening, a freedom revolution in which people are taking ownership of their jobs, their time, and their lives.  I want to do everything that I can to enable people to quit their jobs and have the freedom to live THEIR life, not the idea of a dream life designed to benefit a specific class of people.
The first and most direct way I can create opportunities is through the NoHat internships.  Since 2012, internships have been my way to meet peers and potential partners.  They are also the solution to the #1 problem that most people in this industry have – a lack of structured focus on techniques with a proven track record.   The internships provide a structured program with access to a mentor and group of peers – both of whom will kick your ass to meet some difficult deadlines (which creates a great barrier to entry for selecting future partners)  Click here to learn more about the upcoming internship.
Why I want to create social opportunities for entrepreneurs:
For many, myself included, the ideal life involves living and working directly with peers.  Anyone who's been full-time online can attest to the fact that it can get lonely.  You work from home all day, and rarely have the opportunity to shoot the shit with someone who understands the trials and tribulations of an internet marketer.  We've all tried to explain what we do for a living to our friends and family… (and no I am not a web designer and can't design your website).
In the short-term we are setting up a little entrepreneurial community here in Valle de Bravo.  Long-term I'd like to see these communities all over the world, as travel and new experiences are also passions I share with almost all of the NoHat readers I've had the opportunity to meet.
Contact