Update: Keeping in mind that PBNs still work, they currently have a history of being targeted by Google and likely are not the safest option moving forward. This is one of the many reasons why we are going to focus more on creating long term business models that do not only depend on SEO for traffic.  
If you've been building out new sites over the past 6 months, having built out sites during 2013 or prior, you will most likely have noticed a significant difference in the time it takes to rank your main target KWs.
If you're fairly new to the game and have read posts from experienced bloggers talking about making money two months after launching a site and making close to $250 in month 3, do not be discouraged if you have not hit those kind of results because they are VERY rare in today's game.
We have launched around 150 sites in the first 6 months of 2014 and we are now in a position to provide an update to Hayden's sandboxing and serp auditions post from February this year and shed a little bit of light on the common question of…
How long does it take to rank?
I had originally intended to write an article for our Interns and participants in our Private Training Courses, but it is so commonly asked that I decided to open it up as a public post.
So, let's take a look at "typical" ranking patterns and some potential workarounds that we are now testing as part of our pursuit to be at the very forefront of cutting edge SEO.
Introducing months 1-4 of a new site, the most frustrating months of your life



Pretty up and down, right?
Common traits of months 1-4:
3-5 weeks AFTER launching a site, you will debut somewhere between position 100-200 and sit there for a few days or up to 2 weeks
Sudden drop to lower position, or totally out of serps
You will often then bounce back again higher than the position you debuted at. If you're lucky, you have a fairly consistent ride to page 1 from there.
Most likely, you will keep bouncing in and out of serps or up and down for approximately 2 months from the time you first appeared in the serps, which is usually about 3 months from when you launched the site and added your first content.
But, there is hope!

As you can see, there are wild fluctuations from Jan through to around Feb 24th. The site debuted at approx position 90, dropped to pos 250, back up to 90, bounced out of serps completely for a few days periodically, came up to page 2 for a few days in mid Feb, down to position 250 for a few days and then hallelujah, back to page 2 and has since climbed steadily to position 3. A rough ride, but we got there.
Some notes on the above
We link build our sites from as soon as we have the main target page on the site SEO'd to our liking and approximately 7500 words of content on the site overall (less for a one page site)
With the exception of one page sites, all our sites are 7500+ words of content, most are far larger than that (we're not talking old-school shitty MFA sites)
We link build at a rate of 2-3 links per week
All links are PBN links which are pretty much all DA28 and above, average probably around DA35
Workarounds for faster rankings & traffic
Explaining workarounds is a whole series of posts on it's own, so I'll keep the information here brief, but we WILL be providing plenty of information on this topic in the near future.
The ranking patterns above are for MAIN target KWs only and you will often still generate traffic to your site from LONG TAIL KWs. This is KEY information > You can rank for the long tail stuff (which we loosely define as anything 1000 LMS or below) much quicker by carefully structuring your pages to include lesser terms.
Launching a site on an expired domain MAY provide a benefit, but we don't have enough data on that yet. It does appear that you need to continually link build the site, despite it already having some prior links pointing to it
Adding content to existing sites that are already aged 2-3 months will likely provide you with a better short-term ROI than building out new sites
We do not target KWs on our home pages as the overall trend is that internal pages rank faster
Your thoughts?
Let us know in the comments below what you are currently experiencing with rankings in the first 3-4 months of your newer sites!
Update 11th June: Just to clarify, this post was not related to all the talk about the 30 day Google Sandbox. I don't follow Black Hat World. We've never paid much attention to rankings in the first 30 days. The post I wrote is actually more just to highlight the huge fluctuations in rankings over the initial 4 months of a site's life. To prepare you all for the current state of play, stop you from pulling your hair out when your site dances more than this kid: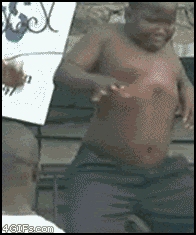 And really, if it takes a 3-4 months to see some decent rankings and $s, and you're aware of that, any 30 day sandbox is fairly inconsequential.