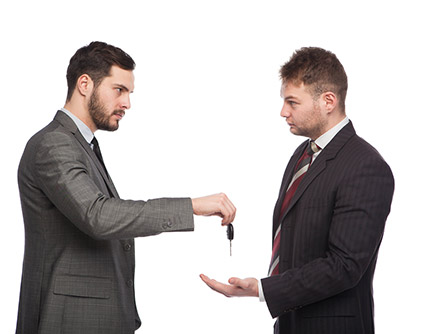 The beauty of internet businesses is their lightning fast feedback time.  You want to test an idea?  No problem, in a matter of days you'll know whether it works.
That's what got me into building web sites, and making SEO the foundation of my business.
Then the sandbox came in and ruined it for us.  Now, you spend a few thousand dollars and countless hours building a site, and you don't know if it was really worth it until 6-9 months later.  In terms of feedback time, that's even worse than a brick and mortar business!
 The easiest way to overcome this was just publishing posts on aged sites, and the easiest way to find aged sites was to buy them.  So I started looking into buying sites on Flippa.
Strategy #1 – Own a Contributor Site
Because of my shady PBN background, I was naturally inclined to first look into sites with strong link profiles that had never expired.
My strategy was to identify and purchase sites that rank content quickly.  Note this is different from metrics – it has to rank content quickly so you check recent articles and make sure they are showing up decently for semi-competitive variations of their titles.  Like the old niche site KW research, there is a formula to this.
Once I've bought the site, I convert it into a contributor site that covers a wide range of topics.  I then write my own content to rank (as a contributor), and put up a lead magnet on that content (or just put in affiliate links).  This is similar to the old EZineArticles technique of the past, but you get to own the contributor account, and you can put in kick-ass lead magnets (which is why I designed the Stepify platform).
I've also done this by partnering with people on their ignored sites instead of buying the site outright.  This approach has added 4 more DA60+ sites that I can put my own lead magnets on.  If you do it enough, you could also have a solid blog network that is capable of not only helping any site rank higher, but can also send traffic.  And this overcomes what I think it the biggest weakness in PBNs: They don't send traffic.  Non-search traffic is quickly becoming a massive ranking factor.
The downside to this approach is it doesn't really allow you to monetize directly on the site.  Which is why I moved on to purchasing established online businesses.
Why buy established businesses?
George Do did a great guest post on why website investment is a great alternative to traditional investments.  But I wanted to add my input as a digital marketer:
SEO makes sense again – You can buy a site, add content and interlink it within your site, and immediately watch it rank.    Between internal optimization (changing site structure, interlinking articles, optimizing titles), adding content based on solid keyword research, and external optimization (using contributor accounts, interlinking between your own sites, PBNs if you're so inclined) it is not at all hard to double your traffic.
And because your business comes with pre-existing traffic, you can focus on monetization and get instant feedback without having to pay exhorbitant PPC fees.  This could be as simple as just optimizing Adsense/Amazon listings, like I outline in this post on Buying Websites – The Pareto Portfolio.
And unlike the previous strategy, monetization could also get much more complex.  On most sites I buy I try to validate a product creation idea, and if the validation succeeds, I do a complete monetization overhaul.
You can also pool together your resources and tackle any of these 6 site investment strategies as a team.  I wrote about the advantages of doing this in my post on why I formed a buyer's pack.
Just make sure you really learn and do you due diligence before buying.
Want Free 1 on 1 Advice from a Professional Website Investor?  
George from WiredInvestors has let me know that he'd be happy to give out some free information about which website investing system might suit you best (here's an explanation of 6 investment systems he's identified).
Simply fill out the short 5 step questionnaire below, and George will personally go over your results and let you know which system(s) might work for you.  He's not selling anything, and there are no strings attached – he's got a new site and just wants to see what kind of questions the audience has.  To that note, he's also indicated that he'd be more than happy to answer any questions that you have about investing in websites.