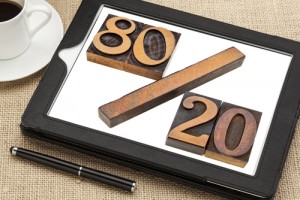 As you may know, I'm currently all about buying internet businesses.  As of writing, I'd say it is the fastest and surest way to make money online (as long as you do your due diligence).
One of the ways I approach this is by applying the Pareto Principle (aka the 80/20 Rule).  Basically I look for the low-hanging fruit – the 20% of works that provides 80% of returns.
Here are some examples 80/20 tasks I'd perform after buying an Adsense or Amazon site:
Split-test ad placements
Test other ad platforms
Add a direct advertising page that allows for sponsored posts.
Run existing content through an on-page optimization gauntlet (optimize titles, images, pad out thin content, add LSI terms)
Interlink existing content to raise ranks of keywords on the first/2nd page (add links from the homepage and main categories, as well as  within content in posts).
Spec out new articles for low hanging fruit keywords (the standard NoHat style keyword research still works wonders).
Add articles to contributor accounts (HuffPo, business.com, etc.)
PBN link-building, or 2nd tier linkbuilding through PBNs (link building the existing links of sites instead of your own site).
If you have established systems for all of the above, it can be completely handled by VAs.   Of course you'd need to get your own contributor accounts/build your own PBN as well, but even if you focus purely on internal optimization you should be able to get very strong returns.
If you're good at creating systems and outsourcing to VAs, creating a Pareto Portfolio makes a lot of sense.  Your time would then be spent just finding new sites to acquire and then loading them into the system.
Want Free 1 on 1 Advice from a Professional Website Investor?  
George from WiredInvestors has let me know that he'd be happy to give out some free information about which website investing system might suit you best (here's an explanation of 6 investment systems he's identified).
Simply fill out the short 5 step questionnaire below, and George will personally go over your results and let you know which system(s) might work for you.  He's not selling anything, and there are no strings attached – he's got a new site and just wants to see what kind of questions the audience has.  To that note, he's also indicated that he'd be more than happy to answer any questions that you have about investing in websites.