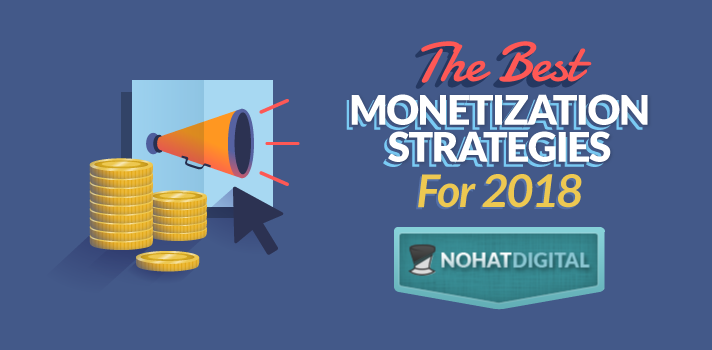 Ken's Note: Testing new monetization methods is the #1 way to improve ROI on my website investments and it applies to every niche. Monetization can be improved in minutes, while it can take weeks or months to see ROI from SEO. This guest post was written by Jeremy Hood, who kicked ass in the internship and was invited down for the apprenticeship in Valle to partner on a business with us.

If you want to grow your website, here's a closer look at some of the best website monetization tactics that you can try.
Monetization Through Affiliate Marketing
First of all, let's have a quick reality check.
Since you're here reading this post about website monetization, chances are you probably didn't build an e-commerce store — at least not at first.
While turning your blog into an online store is not impossible, affiliate marketing is far more accessible and affordable, especially to those who have no background in e-commerce.
In simple terms, affiliate marketing is the practice of selling someone else's products in exchange for a commission.
Affiliate marketing is a good way to monetize a website without showing display ads.
You don't have to invest in product R&D, inventory management, or any of the complicated stuff. All you need is a website, great content, lots of traffic, and a reliable affiliate program.
According to BuiltWith, here are the biggest affiliate networks today: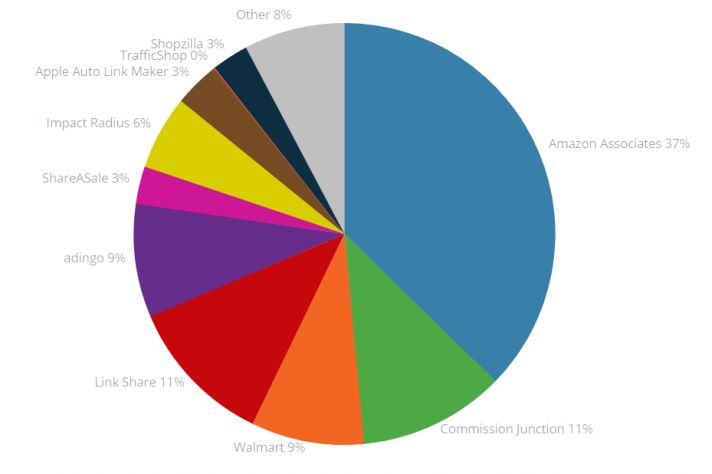 Biggest Affiliate Networks:
Amazon Associates (37%)
Commission Junction (11%)
Link Share (11%)
Walmart (9%)
Adingo (9%)
Impact Radius (6%)
ShareASale (3%)
Apple Auto Link Maker (3%)
ShopZilla (3%)
TrafficShop (Less than 1%)
All Others (8%)
Picking an Affiliate Program
For the sake of this guide, we'll use Amazon Associates as an example.
With Amazon Associates, you can pick from a range of over a million products to sell as an affiliate marketer. You can sell furniture, gardening tools, cosmetics, digital goods — basically any product under almost every category in the Amazon e-commerce marketplace.

Creating an Amazon Associates account will grant you access to their linking tools. For example, their product links allow you to offer affiliate products in three different content formats: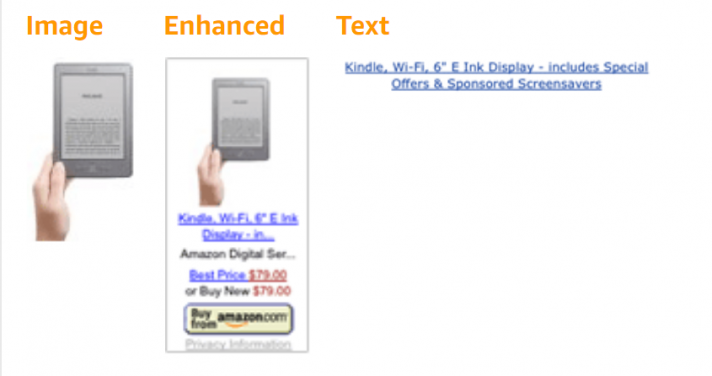 Remember, affiliate programs work by tracking affiliate links and sales. If a customer clicks on your affiliate link and completes a purchase, you earn a commission.
You can then use the Amazon Associates interface to monitor your earnings, view reports, and access a library of learning resources.
Ken's Tip: We typically see $0.14 visitor values on Amazon Affiliate sites. If the value of the website you are looking to invest in is below this, it is an optimization opportunity!
Publish Sponsored Content
Publishing content in exchange for payments is nothing new in the blogosphere.
Sponsored content can be in-house ads, a news article or a product review published on your blog that is paid for by another company. Typically they are doing it for a backlink or brand mention within the article.
One thing you need to remember when publishing sponsored content is to disclose it to your readers — as required by the Federal Trade Commission. In other words, you are required to be as transparent as possible and put the experience of readers above everything else.
A good place to look for content sponsors is through micro-influencer communities like Cooperatize. You just need to fill in important details regarding your website such as traffic, social media reach, and your target audience.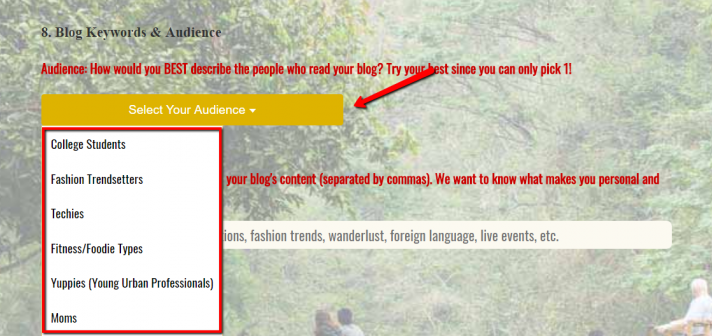 Display & Pay Per Click Advertising
Pay Per Click or PPC advertising may not be as profitable as it once was, but it's still a great way to monetize info articles and pages where there isn't a good affiliate partner.
If you have have ever wondered how to monetize a website with AdSense, this is the right section.
Put simply, PPC advertising involves displaying ads on your website from a display network. Google AdSense, for example, is the biggest advertising network that can connect businesses with website owners who are interested in showing their ads. However, we've found that AdThrive is the most profitable ad network (outperforming both Adsense and Media.net on our websites).
The PPC model rewards you whenever someone clicks on an ad. Unlike an affiliate marketing campaign, users don't necessarily need to close a purchase before you get paid.
When it comes to integrating AdSense with your website, you must first undergo an approval process by Google. For this, you need to copy and paste a code into your website's HTML file after the <head> tag.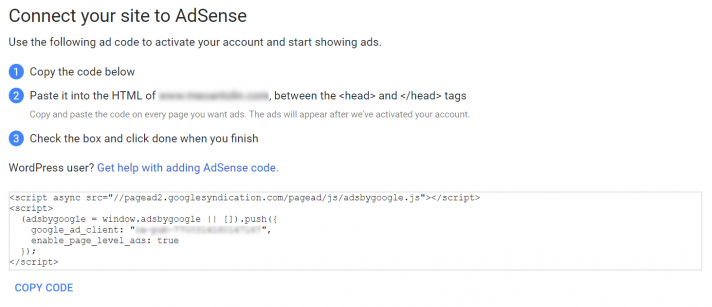 To help make your website AdSense-ready, here is a quick list of prerequisites before you apply:
Have at least 15 high-quality blog posts. They must be unique, engaging, and valuable to your target audience.
Design for user experience. Google frequently turns down websites that are poorly designed. Make sure your website has a readable design, a well-structured layout, and loads fast.
Include essential pages. To build your credibility as an information, create important sections like the "About Us," "Contact Us," and "Privacy Policy" pages.
Review the Google AdSense program policies. Finally, AdSense requirements tend to change from time to time. The only way to be sure is to check the AdSense program policies page for updated information.
Ken's Tip: Buying a website and replacing low paying ad networks with a higher level form of monetization is a quick win!
Direct Advertising
Bloggers who use display advertising networks could cut out the middleman and sell display ads directly to advertisers. Ad networks take a hefty cut from you – sometimes up to 70% of what the advertiser is paying. It's not as hard as it sounds – simply put up a "Advertise With Us" page on your website and advertisers will begin contacting you. Buy Sell Ads is an in-between solution where they provide a network of advertisers and you can display your own as well. If you don't have any advertisers you can automatically "backfill" the empty ad spot with a traditional ad network like Adsense or Media.net.
Depending on the niche, direct ads can be extremely profitable. Cryptocurrency advertisers for example are paying $40-50 CPMs! This is one reason why so many marketers are moving to crypto.
Service
Offering a service is another great way to monetize your website that doesn't require much investment of capital. However, it will require an investment of time.
Some examples of service business include:
Web design
Business consulting
Content production
SEO
Training
App development
Social Media Management
Combining a product with service (install an appliance with a maintenance contract)
Obviously, you will need to have some expertise in whatever service industry you are working in!
However, as your site begins to grow and you continue to establish yourself as an authority in the space, you can capitalize on your traffic by encouraging your readers to sign up for your service.
Blockbliss for example is a service business that does application development and blockchain consulting for cryptocurrencies: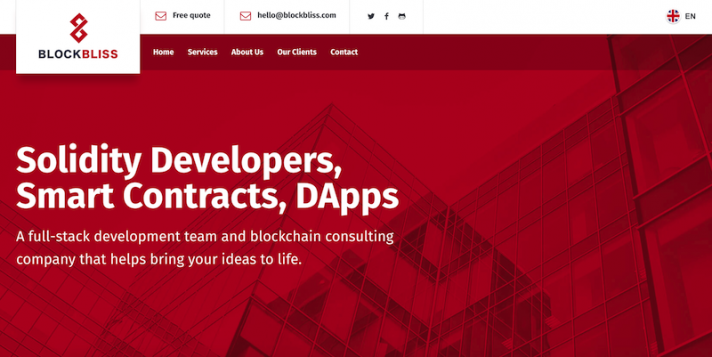 Like we just mentioned, offering a service to your website visitors will not cost you a lot of money. You will need to spend some time thinking about your pricing structure and which services you want to offer.
This could be good for a site that is already getting traffic for informational keywords.
The downside to starting a service business is that it could take a while to grow your income.
You will also be trading your time for money unlike some of the other monetization methods which are more passive in nature.
As your client list begins to grow, you may have to hire employees to fulfill the work.
How do you feel about managing a team?
Will your customers accept the fact that you might not be working on their account anymore?
Lead Generation
If you already have an affiliate site you may want to look into possible adding a lead generation as a monetization method.
Especially if you already have an email opt-in form, then most of the work is already done for you!
Lead generation is where you refer traffic to another company that pays you a fixed dollar amount for the lead.
The payout depends on the industry and quality of your leads. Professional service providers such as lawyers and dentists can pay $100+ per lead. Survey sites, online subscription services, and the like will be more in the $2-10 per lead range.
Here is a good example of a website that is earning money from lead generation: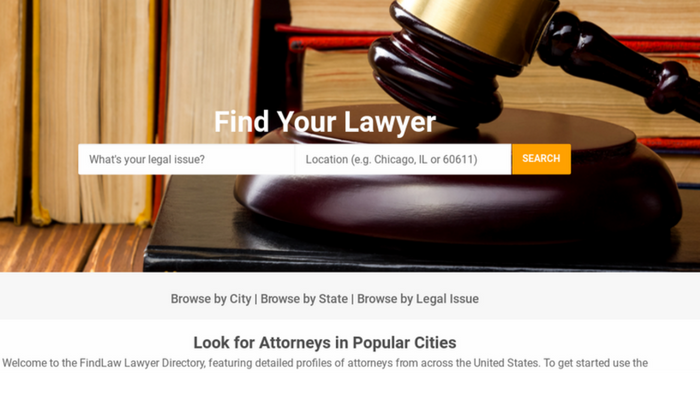 As their visitors search the site for information about lawyers, they will collect an email to send to an actual lawyer.
The law firm that receive the lead will pay a fixed amount to FindLaw.
Other niches that might could be great for leads include:
Traveling sites
Insurance
Home services
Education
Credit Cards
Real Estate
Assisted Living
Just make sure you ask for permission when collecting emails. This can be done with a check box offering to receive more information or offers from your partners.
The other thing you will need to think about is trusting your partners. There is a risk that they will fail to pay for the leads.
However, if you have done a good job acquiring quality traffic, you should be able to find a company that is willing to pay for it.
Info Product
Info products can take many different forms.
If you already have a website with awesome content, you could easily turn it into an info product.
Common examples include:
eBooks
Courses
Membership Sites
Here are 47 more examples from Real Passive Income Ideas.
You can provide value to your visitors by organizing the information you have already written about.
Sure, someone could eventually make their way through your site and learn a lot of information.
But what if you organized it into a high-quality ebook or course that was easy to follow and provided a ton of value.
Imagine if instead of sending your visitors to an affiliate site earning a couple dollars per sale you were getting $5-10 to let them download your PDF?
Sounds pretty good, right?
Of course, you need to create something that is worth the money you are charging. But after your info product is setup, there are little to no costs associated with it.
You could also create a 'members only' section on your website that offered more in-depth training or information than your general blog posts.
Could you get 100 people to pay you $10 a month to stay up to date in your niche?
As you can see, info products are a great way to add a revenue stream to your passive income stream with near 100% profit margins.
You will of course need to update your products every so often to ensure they continue offering value to your customers.
FBA
So far we have discussed ways to make money on your website without dealing with a physical product.
The amount of money you can make per sale of a physical product can be much higher than an affiliate sale or click from a PPC network.
However, expect to put in a correlated amount of time, effort and money with the higher sales.
FBA, or fulfillment by Amazon allows you to ship products to Amazon's distribution center and they handle the logistics… for a fee of course!
While Amazon will handle a lot of things, you will still need to put in a lot of hard work into sourcing a unique product.
Alibaba is a great place to start, but it's not really a sustainable business model to sell someone else's product on Amazon (anybody can do that). Rather, you'd want to find a supplier on there and work with them to create a unique product of your own.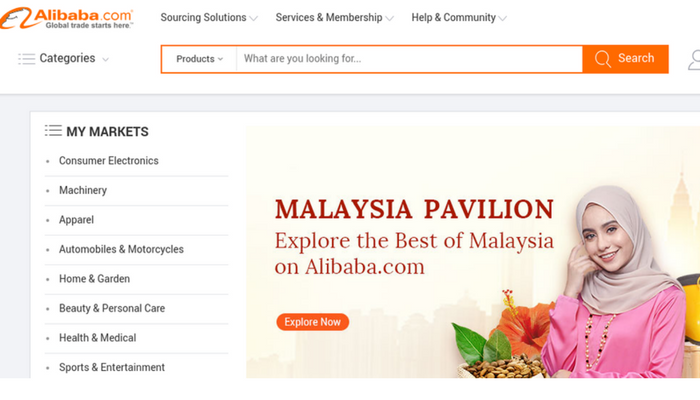 It may take several weeks of going back and forth with the supplier and then requesting samples before you are ready to make a purchase.
To get better shipping rates, you will need to opt for sea vs. air shipping which takes longer.
However, if you can get the product you want, the wait will be worth it because you get to keep all of your profit margin versus just earning a small commission.
This can lead to instant sales as soon as your product is listed so you can start seeing a return on your investment.
However, when you start dealing in physical products there are a few more concerns to worry about:
Customer Service – if a customer receives a defective product or has questions you will find yourself either answering emails or answering phone calls. You could eventually outsource this to a VA but it's worth considering.
Inventory – as your sales start to grow you will need to make sure you don't run out of inventory. Like we just mentioned, to get the best rates you will need to ship over sea which can take 4-6 weeks. There will be a balancing act on your end so you don't have too much inventory on hand but don't run out either.
Capital – When purchasing inventory, the more you can buy at once the better price you can get, which will increase your profitability. However, this might mean sending $10,000 or more to a supplier without any sales yet.
Dropshipping
When you monetize your site with dropshipping you essentially become the middleman.
The benefit to this over FBA is that you don't have to worry about your own inventory.
You might not make as much money per sale but you still get to set your own pricing and have some control over profitability.
With dropshipping you will process the sale on your site and collect payment. You would then send the order to the selling merchant who would fulfill the shipping for you.
With sites like Shopify, it is easy to get started with dropshipping. And as you have probably just guessed, it requires much less capital since you don't need to purchase inventory.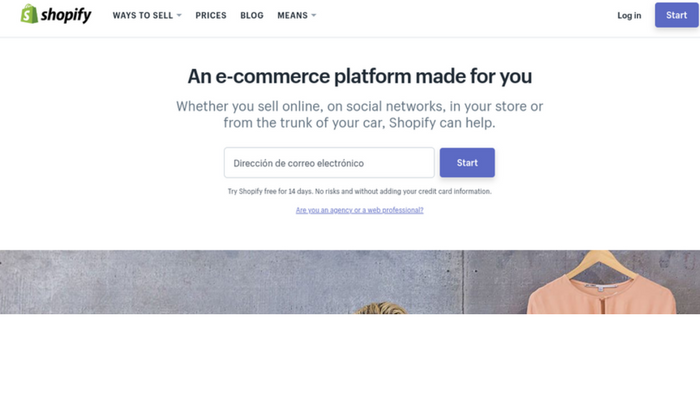 You simply pay the merchant an agreed upon price for the product as you need it (when you make a sale). Whatever you can you charge over that is your profit less any associated fees.
Another benefit to dropshipping is that you can easily offer a wide variety of products. With FBA you may only have enough capital to start with one product until you can reinvest earnings.
Just like with of all these monetization methods dropshipping has its downfalls as well:
Profit – you won't make as much money as curating your own product since the seller has to make money as well.
Inventory – while you don't have to worry about inventory yourself, your supplier may run out.
Shipping times – if you can't find a domestic supplier, it may take up to two weeks or longer for your customer's to receive their products. With Amazon offering 2 day shipping, this can feel like an eternity.
Errors – of course we are all human. Undoubtedly, at some point, your supplier may send the wrong item to your customer. Hopefully, this will be few and far between.
SaaS
SaaS, or software as a service, is one of the more difficult ways to make money with your website.
That is because designing and developing a software product is expensive.
You will also have to continuously update your software and add features to keep a competitive advantage.
This means you may have to manage a team of developers, not just the normal day-to-day aspects of running an online business.
Your customer support will probably be more expensive to run as well as you there will be a more technical aspect.
Starting a SaaS business from scratch could be pretty risky. It may be better to buy into an existing SaaS business.
SaaS websites typically receive recurring revenue from their customers, and the value of a customer is higher than other forms of monetization because you own the product. That steady revenue stream is what makes this model attractive.
SaaS can be one of the more profitable website monetization strategies but, again, a lot more work comes with that.
Ecommerce Stores/Physical Products
Ecommerce stores require the most work but you will have complete control over the entire process, potentially allowing for higher profits.
You would need to source the products, process the sale, ship the products and deal with any customer service issues.
It might be better to think of using a website to grow an existing business that already sells physical products.
If you don't already have a website or a blog, this could be a potential stream of traffic that you wouldn't otherwise have.
If your margins are high enough you could also test out some paid advertising to get even more traffic from search results.
Key Takeaways
Hopefully by now you have learned how to earn money from website visits.
There are plenty of ways to monetize your site, split testing is key to see which one works best for your audience.
Move up the "monetization ladder" from selling other people's products to building your own business
Choosing a monetization method is just one step in monetizing your site. Knowing where to place your call to actions, understanding your audience, and performing keyword research will get the traffic you need to make money through these methods.
Just don't forget that in any online venture, patience, persistence, hard work, and an inquisitive mind is crucial to achieving success.
Feel free to share this article with anyone you know who might need help with monetizing their site.
Do you have favorite website monetization models? Let us know in the comments below!