Update: Although PBNs still work, they now have a history of being targeted by Google and therefore may not be the safest option. This is why we now focus on creating online businesses that are independent of SEO traffic.
Note that this is part of the expired domain series which has been compiled in order of importance here.
This was originally part of a private course for interns, but I've opened it up to anyone and everyone now. It was written by Danny, a V1 intern who headed the course for some V2 interns.  Note that mining for the standard .com/.net/org is no longer very relevant as the technique has become quite popular and domains are being dropcatched, but people may get some other value from this post.
<Disclaimer> A lot of people are having difficulty finding domains. There is a real learning curve, so please be prepared for this. As an option for those that are just starting out, I recommend you prove the model by first purchasing a few domains, or try out our latest service, RankHero.
RankHero allows you to test the viability of this method without having to invest the hundreds of hours and thousands of dollars it takes to find, build, host and maintain your own Private Content Network. </disclaimer>
If you've been applying the strategies in previous posts, then you know that searching for quality expired domains is very addicting. Once you've had a little success with Xenu's Link Sleuth and Scrapebox, you're better off spending time developing and monetizing a list of good domains than searching for rarities like PR5s and 6s. The best way I've found to curb that addiction is by using domain drop lists.
Drop lists contain lists of domains that are in the process of dropping, but haven't necessarily expired yet. This is an important distinction to make.
Choosing a Drop List
There are thousands of sites that aggregate data from different registrars and auction houses to create their own lists, and some of the more popular ones offer monthly subscriptions to get access to different domain metrics. I would avoid these sites, especially if you're a beginner. Big players like Pool and FreshDrop are monitored by domainers with years of experience, so their lists get picked rather quickly.
These are some of my favorite lists for finding nice PR3 and PR4 expired domains:
Udate 11/7/13: Expire.biz has the same lists as OdditySoftware, but conveniently in text format.
Second Update: ClickMojo also has a great list.
OdditySoftware.com – My #1 go-to list. You can filter the list by ccTLD, dictionary terms, has-Alexa ranking, and a number of other useful metrics. This list also scores highest for PR4s-per-time invested.
ExpiredDomains.net – Another great resource. Similar to Oddity, the lists on ExpiredDomains contain domains that are pending delete on the present day. You can also filter the domains by age, which is useful if you're hunting for premium aged domains from the late '90s or early '00s.
DropGrabs.com – The domain lists on DropGrabs are shorter and less organized than the other sites, so you won't be saving as much time by mining their lists. But you can choose to look at domains from a variety of sources, and I've found quite a few amazing domains from DropGrabs.
Honorable mention goes to GoldNames.
There are many sources to choose from, and I suggest finding one or two that serve as nice "filler" sources of domains to check when you're pressed for time.
Cleaning Your List
Today's drop list on Oddity shows ~100000 domains. Checking each of these would be a nightmare, even if you have access to the tools developed by Hayden and other readers. A simple way to pare down this list to something manageable is by using Scrapebox's bulk filter.
At this point in your search, you've no doubt noticed that there are certain words, characters, and TLDs that are associated with less-than-reputable websites or spammy backlink profiles. Whenever you see one, add it to a list in a .txt file. Scrapebox has a nice built in feature for filtering out any URL that contains entries from a text file, as seen here: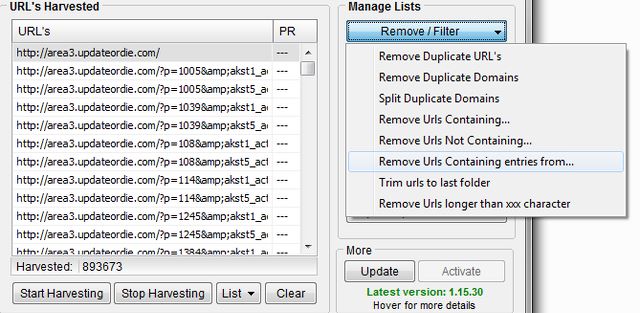 Take it one step further by checking the domain availability on Name.com. Their bulk tool can check the availability of 7 – 8000 domains of the same TLD without any issues. Together these steps can get that list of 100000 down to 20000 or fewer in less than an hour, which is something you can work with.
edit: A list of spammy terms can be found here. Also, you can select a list of terms using the Find function in OpenOffice by following these instructions.