How To Increase The Success Of Your Website
10 Ways to inexpensively and efficiently promote your website online and increase its traffic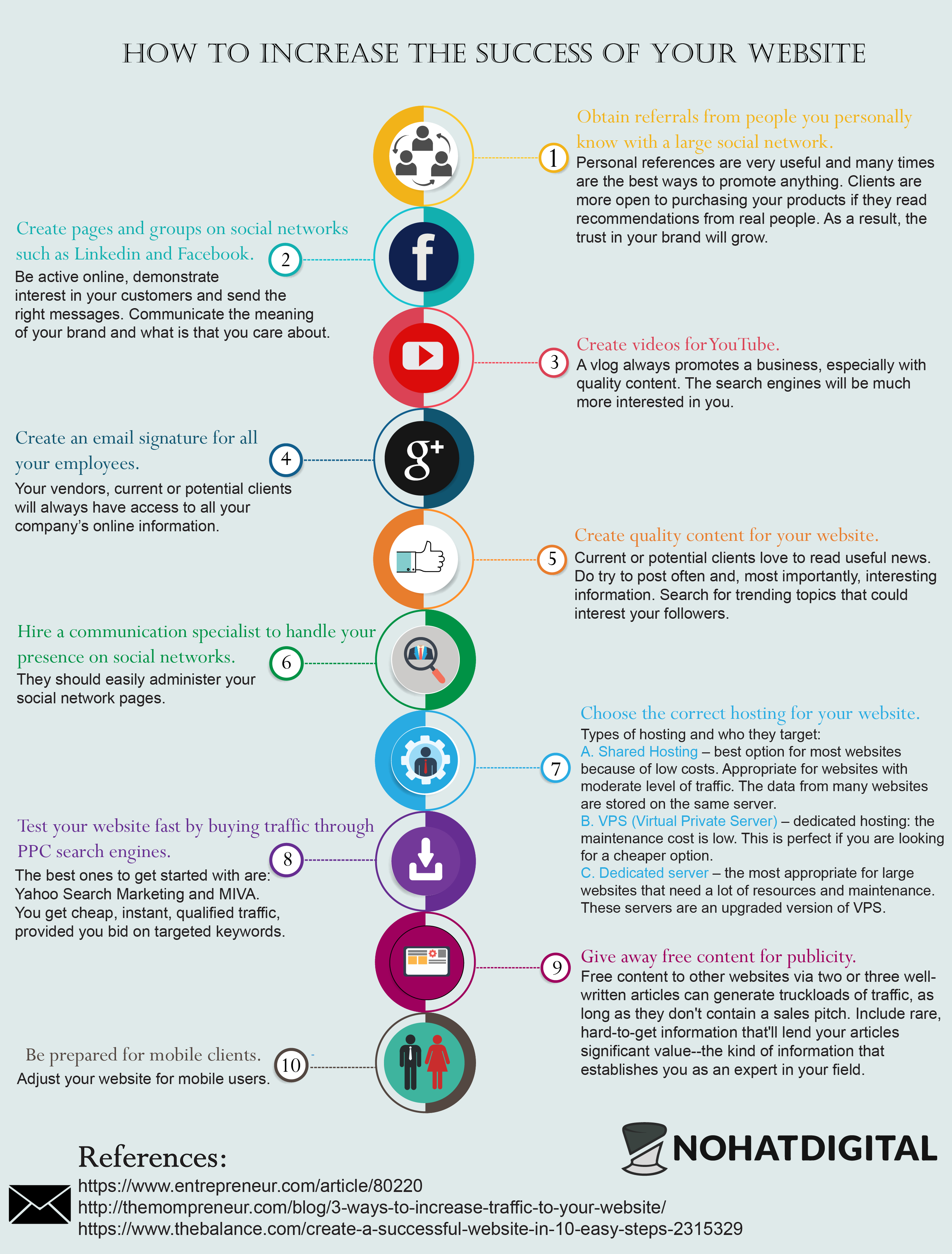 Create pages and groups on social networks such as Linkedin and Facebook. Be active online, demonstrate interest in your customers and send the right messages. Communicate the meaning of your brand and what is that you care about.
Create videos for YouTube. A vlog always promotes a business, especially with quality content. The search engines will be much more interested in you.
Create an email signature for all your employees. Your vendors, current or potential clients will always have access to all your company's online information.
Create quality content for your website. Current or potential clients love to read useful news. Do try to post often and, most importantly, interesting information. Search for trending topics that could interest your followers.
Hire a communication specialist to handle your presence on social networks. They should easily administer your social network pages.
Choose the correct hosting for your website. Types of hosting and who they target:
Shared Hosting – best option for most websites because of low costs. Appropriate for websites with moderate level of traffic. The data from many websites are stored on the same server.
VPS (Virtual Private Server) – dedicated hosting: the maintenance cost is low. This is perfect if you are looking for a cheaper option.
Dedicated server – the most appropriate for large websites that need a lot of resources and maintenance. These servers are an upgraded version of VPS.
Test your website fast by buying traffic through PPC search engines. The best ones to get started with are: Yahoo Search Marketing and MIVA. You get cheap, instant, qualified traffic, provided you bid on targeted keywords.
Give away free content for publicity. Free content to other websites via two or three well-written articles can generate truckloads of traffic, as long as they don't contain a sales pitch. Include rare, hard-to-get information that'll lend your articles significant value–the kind of information that establishes you as an expert in your field.
Be prepared for mobile clients. Adjust your website for mobile users.
References:
https://www.entrepreneur.com/article/80220
http://themompreneur.com/blog/3-ways-to-increase-traffic-to-your-website/
https://www.thebalance.com/create-a-successful-website-in-10-easy-steps-2315329 
Share this Image On Your Site