Update: Although PBNs still work, they now have a history of being targeted by Google and therefore may not be the safest option. Which is why we now focus on creating online businesses that are independent of SEO traffic.
As many of you know, Google has started a massive wave of de-indexing of private blog networks. This appears to have started a couple weeks ago and hadn't affected NoHatDigital until approximately 36 hours ago.
This post is an analysis of how we have been affected and hopefully will help you recover from and/or avoid de-indexation, plus provide you with some insights into why we are investing so much of our resources into testing and experimenting with new online business strategies, many that do not rely on SEO.
Firstly, ups and downs are a part of the SEO game. Hayden got crushed with the EMD Update 2 years ago. Once you've been through enough of these cycles, you understand these things happen and it's just a matter of analyzing what went wrong and adjusting for the future.
I'm personally very glad to have a team, here in Valle de Bravo, that has a number of people within it that have been through Google updates and bounced back because when massive shake-ups like this happen. It's comforting to have people in your corner that can navigate the way and we aim to be that resource for many of you that are going through PBN de-indexing and trying to bounce back also.
It still sucks (sometimes it really, really sucks), but it's an opportunity for growth and innovation as well. The sky's not falling. Hayden and many other top SEOs and online entrepreneurs of today have bounced back from a dozen updates. Panda and penguin caused chaos, people lost entire incomes overnight with both and also with the EMD update. The cold, hard reality is that SEO is a changing game and it comes with risk (that's probably part of the attraction!).
Every industry goes through trends, drastic changes, and innovations. You must adapt to your environment and pivot based on market conditions. We would not go as far as saying that PBNs are dead, certainly SEO is not dead, but we've been preparing ourselves for PBN-related updates for months
Our re-brand away from NoHatSEO.com to NoHatDigital.com a couple months back was made with an eye to the future that online business is the way forward, not purely SEOd businesses.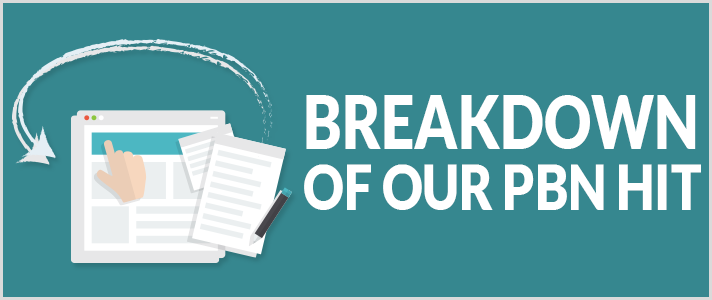 We have access to 8 different primary networks that have over 600 domains between them. These networks are segregated and many are developed in slightly different ways – this probably makes us one of the best entities in the world to study when an update such as this one hits, which is exactly what we are doing.
As mentioned, some sites were affected and some were not. Approximately 40% of our total network was hit, but the effects were not network-wide for us which is interesting. Looking at three segregated networks, one (about 60 sites) got entirely de-indexed, another lost only a handful of sites, one was not hit at all.
The most interesting sample was that of a recent network that had not yet been fully built out. This network was never used to link build a single site and never opened to the anyone outside of NoHatDigital. The network consisted of 24 sites, 14 of which were de-indexed, and 10 of which were completed unscathed.
We also had a group of 6 expired domains that we had launched as money sites within the last 2 months de-indexed. They did not in any way resemble a PBN site, and had unique, well-written content on them. Many of them didn't have any PBN links pointing to them. Fairly odd.
And a final interesting one is that the bulk of our sites that got de-indexed where domains purchased at auction or that were only recently launched (within the past 2 months). In fact, ALL of our sites that we had purchased at auction within the last 3 months or so were impacted.
What the above appears to indicate at this early stage is that the de-indexation isn't solely caused by a manual infiltration or link based algorithm. It's most likely to have strong algorithmic component, and must have to do with one of the following:
On-page (content, to dissimilar to former content before drop, or too little content)
Hosting
Date of drop/age
Registrant/WHOIS information
After a brief analysis by resident Data Expert Lynn, we have ruled out drop / age as well as host. We are still looking into the matter, but feel it's most likely from registrar / WHOIS info.
Graduate PBN, Links4Life Untouched
The other interesting segment is that domains in our Link4Life program have been completely untouched. These domains were registered by individual Interns and PTC participants, so the WHOIS information was diverse. This further enforces the notion that the delineation is caused by WHOIS / registration data. Which is great because it is literally the easiest item on the list to adapt when building out our future networks.
Thin Content Warnings
Many of our Interns that have had their networks de-indexed have been sent "thin content" warnings via Google Webmaster Tools. We got a few of these warnings through about 24 hours after the PBN sites got hit: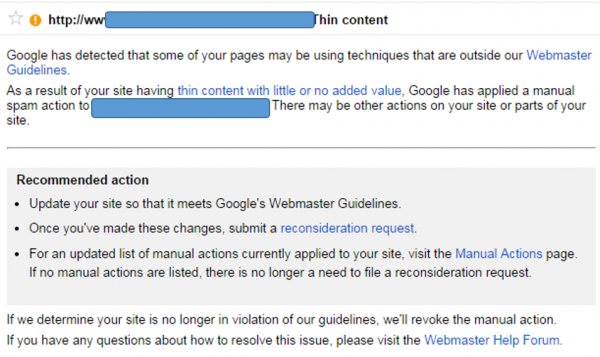 If you're building niche sites with Amazon, Adsense or other alternatives as a monetization focus, with content primarily on commercial keywords, by Google's Webmaster Guidelines, you're creating thin content (even if you put a lot of work researching the content).  Of course, doing any sort of linkbuilding (even outreach) is technically against Google's Webmaster Guidelines, so the more important question is, what should you do going forward?
Work on recovery. This could be an entire post on its own, but the truth is niche sites are fairly disposable. And if your site exclusively targets commercial keywords, once your site falls on Google's radar, it'll be quite an uphill battle to revise it to a point where it complies with Google's official guidelines.
Build out a new site. Google loves to send these manual thin content penalties in batches when they take down a network, or a group of sites fall on their radar, but the truth is that the web is a huge ocean, and Google's manual review team can only patrol a little corner of it.
Build out sites that provide lots of content focused on readers and non-commercial keywords. This is one of the things we were shifting towards in the recent internships + PTCs; building sites that mix in non-seo focused content. Even better if you can identify actual reader needs and create content designed specifically to address them – this opens up all sorts of opportunities for content promotion and outreach as well.
Build sustainable businesses that don't live or die by Google traffic.
All of the above are viable options depending on your situation. #4 should be everyone's ultimate goal, but for those still focused on SEO traffic, #2 and #3 are your best options.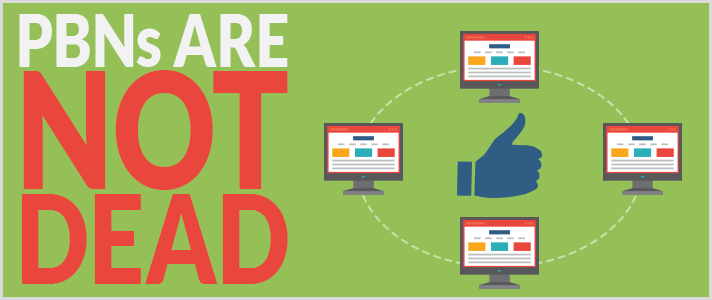 The good news is that a) PBNs are not dead, and b) even if they were, there is a whole wide world of traffic, profit, and opportunity outside of PBNs and Google search results, and we're continuing to move our core business focus beyond Google's reach to online businesses, paid traffic and alternatives to SEO. SEO will still rule for a long time to come, but it's important to have an eye to the future.
As of right now. it's important to understand that Google has a way of striking fear in the SEO community (which they do very well), by rolling out mass changes or creating a massive stir, in this case mass de-indexing of PBN sites and manual spam actions.
Sure it's designed to clear up some crappy results in the SERPs, but it's also a PR exercise to knock SEOs out of the game. And it's effective because it's scary to potentially have your sites tank over-night. Google knows this well and they use it to their advantage.
A classic example of this is when the SAPE network got called out by Matt Cutts. We don't use SAPE, but most users jumped ship with fear after the public scare campaign that arose from a single Tweet. Guess what, SAPE is still going strong by all accounts and I know users who still rank sites using SAPE links.
Jan 14th 2015 Update : If you've been hit by Thin Content penalty, check out our article on how to get rid of it.
Links Still Matter:
There is no doubt in my mind that links are still very important to SEO and that SEO still works. Google can de-index as many PBN sites as they like, but they can't flick the switch on an algorithm that is built on links as the foundation right now. You just can't make that kind of massive change and not have it totally obliterate the rankings of legitimate sites.
There's a BUT…
Buuuuutttttt, we do, and have for quite a while now, placed most of our emphasis on keyword research and on-page SEO as the heart of SEO. To put that into perspective, our Private Training Course is a 5 week course, with 4 weeks dedicated to keyword research, site structure and on-page SEO.
If you can learn how to find keyword groups with top 10 results that are easy to penetrate, coupled with site structure and on-page SEO that is first class, most of the work to build a profitable site is done for you. Links are just the final piece of the puzzle. And like I said, they will continue to be the final piece of the puzzle if you are looking to build niche sites that take advantage of free organic search traffic.
More Buts….
It is perfectly normal to be wary of using PBNs to rank sites right now. We are continuing to use PBN link building as a tactic to rank sites, but we'll be adapting based on our analysis of why some PBN sites got de-indexed and others did not.
We've also been testing tactics to drive traffic outside of PBNs and SEO for a number of months now with the intention of revealing these results on our blog, podcast and in our training courses. Talking about our podcast, we also have some brilliant guests that are leading the way with non-SEO traffic lined up for podcast interviews over the coming month.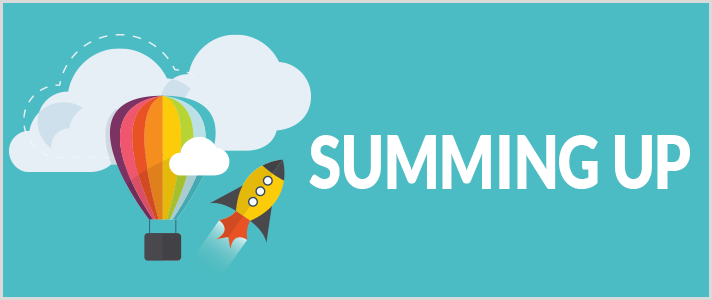 Overall, as this roll-out of PBN de-indexing continues, there are going to be many people affected, just as was the case with Panda, Penguin, the EMD Update and other updates over time.
PBN sites will be de-indexed and money sites hit hard and that does suck. That's the risk-reward of playing in the SEO game, which does absolutely nothing to erase the shitty feeling having your network wiped and money sites tank, but it's fact. SEO is a risk-reward game.
We are continuing on our mission to case study tests and experiments on an un-precedent scale and will be continuing on our course to teach these learnings in our Internships, Private Training Courses and our publicly on our blog.
We're not the first and won't be the last PBN users to have sites de-indexed at this scale.
If you've had PBNs de-indexed, feel free to drop a comment below so that we can start some discussion on a very hot and important topic right now.
[impactful pact='6833′]